It was originally named XBMC (Xbox Media Center) but has since changed and developed into a stand-alone media player that can run on a wide selection of devices to stream movies, music, and photos flexibly.
However, whereas Kodi is a server-client program that may send media content from the server to any client device, Plex is a server-client program that may stream media material from the server to any client device. Nevertheless, because part of Plex was derived from Kodi source code, you will notice some similarities between the two applications, such as the ability to access one's local movie collection and manage and playback videos and music.
While both media applications offer some similar features, they are fundamentally different software.
The key distinction between Kodi and Plex is their purpose – Kodi is intended for an individual to watch content on one device whereas Plex is for people to share media with others across platforms [1].
If you're wondering which program is better: Kodi or Plex, you might be wondering if either of them is the superior choice. Both of these applications have a lot to offer, but there are certain key distinctions that you should be aware of before making a decision. We'll compare Kodi and Plex in this blog post so you can decide which one is best for you!
Kodi Overview
You've undoubtedly heard the name Kodi lately, and you're wondering what it's all about. Kodi is a free, open-source program for organizing your film, TV show, music, and photo libraries. You may also recall the discontinued Xbox Media Center (XBMC).
Kodi only uses your existing media, so you don't need to subscribe to video streaming services like Netflix or Hulu, or music streaming apps like Spotify or Pandora. Instead of relying on subscriptions and platforms, Kodi's usefulness is its support for a wide range of file types and compatibility with a variety of devices [2].
Kodi Advantages:
Since Kodi is open-source, it's constantly being updated by a community of developers. This means new features and bug fixes are released regularly;
Kodi supports a wide range of file types, so you're not limited to using specific formats;
Kodi is compatible with many different devices, from PCs and laptops to smartphones and streaming boxes. You can even install Kodi on a Raspberry Pi for a cheap, low-powered media center;
Kodi Disadvantages:
The vast majority of Kodi's add-ons are created by third-party developers, which can lead to security and privacy concerns;
Since Kodi is open-source, anyone can create an add-on for it. This has led to the development of some "grey area" add-ons that provide access to pirated content;
Kodi's interface can be confusing and difficult to navigate for first-time users;
Plex Overview
Out of all the movie and TV show management apps, Plex is by far the best. Just like Kodi, Plex gives you an aesthetically pleasing interface to help you sift through your content. However, what sets Plex apart is its ability to stream your library from your computer onto any device as well as share it with others effortlessly [3].
Plex is unique compared to other streaming video services like Netflix or Hulu because it allows you to bring your media. If you have digital copies of movies or TV shows, you can store them on a desktop computer or NAS that is always connected to the Internet. Then, using the Plex app on your smartphone or TV, you can stream those videos to almost any device.
Plex Advantages:
Streams your library from your computer to any device;
Share your content with others easily;
Aesthetically pleasing interface;
Plex Disadvantages:
More expensive than some of the other options;
Not as many customization options;
Plex vs Kodi: Difference Between Kodi and Plex
Platform Compatibility and Device Support
Plex is the easiest streaming device to use because it automatically syncs across devices and can be used with any major browser, smart TV, gaming console, or streaming stick.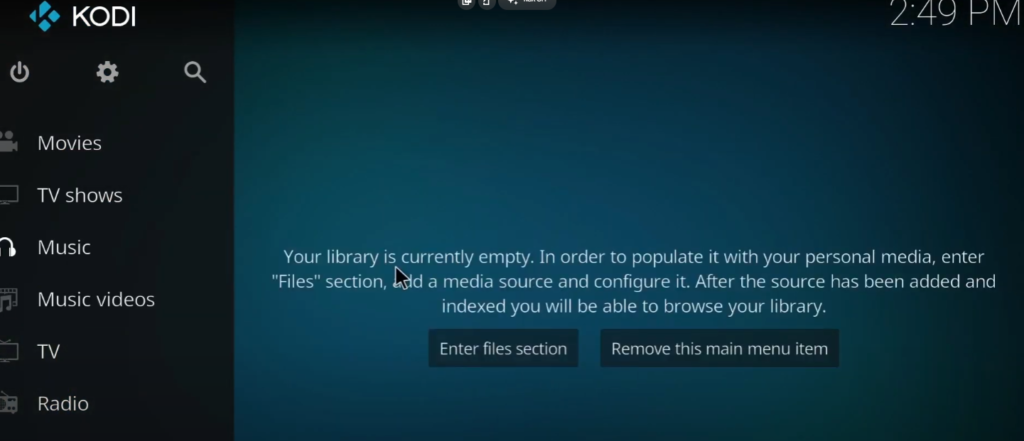 With Plex, gamers and movie lovers rejoice! You no longer have to be tethered to your physical media collection or worry about limited storage space on your devices. Nowadays, we want convenience without sacrificing quality – that's where Plex comes in. With our software, you can access your library from any host with ease so that you never have to miss a beat (or episode) [4].
Unfortunately, Kodi for iOS is lacking. It has a large Android server foundation, but there is no iOS app available at the moment. When your device is offline, Kodi does not enable you to use the library. However, Kodi may be installed on either a desktop or a laptop computer with ease.
You may also set it up on Fire TV and a handful of other non-Android devices, but the procedure might be difficult.
To conclude, Plex is more flexible and available on a broader range of devices. It can be used on iOS and Android platforms and will automatically sync across all devices. Kodi cannot do this – it is only compatible with Android – making it much less usable overall.
Customization and Appearance
Kodi's interface is fully customizable. You can change the look and feel of it by installing different "skins," which are like themes. You can also customize individual elements, like the main menu, home screen, and sub-menus.
Plex also supports customization but to a lesser degree. You can change the color scheme and some other visual aspects of the software, but you cannot change individual elements or install skins.
Overall, Kodi offers more customization options than Plex does.
Media Database
The way Plex and Kodi store their media databases are very different, though they both scan and organize your local media collections. This matters greatly as it explains how each software works and also helps you decide which one is right for you [5].
Each time you install Kodi on a new device, it creates its database. To put it another way, if you switch to a new device, your Kodi media collection will be different. For example, you may have Kodi installed on both your PC and your phone. The Kodi software on your computer would create a multimedia database based on the files on your computer; likewise, the Kodi software on your phone would organize your phone-based collection. It's impossible to watch movies from one device using the other because of this.
Plex, on the other hand, works a little differently. It uses what is called a "centralized database". In other words, your entire media collection is stored in one place – usually on a computer or NAS (network-attached storage) device. When you want to watch something, you just connect to the Plex server and choose what you want to watch. This makes it much easier to keep track of your entire collection and also allows you to watch movies from any device that can connect to the Plex server.
If you have a large media collection that you want to be able to access from anywhere, then Plex is probably the better option for you. If you prefer having each device create its database (or if you only have a small collection), then Kodi might be a better choice.
Transcoding
A crucial element that is often overlooked is the transcoding feature. By grasping the distinction between Kodi and Plex's differences in transcoding, you will be able to determine if your device can efficiently run Kodi or Plex.
Transcoding is dependent on the database's location. Because Kodi has a separate database for each new device, it's easy to conclude that Kodi must use the same hardware for transcoding. As a result, your gadget must not be underpowered.
The server device stores the database, so all of the heavy lifting is done there. There are also no restrictions on client devices. This fact demonstrates why Plex may be used on almost any platform. Hardware transcoding, on the other hand, is CPU-intensive and requires a significant amount of power. You must purchase a Plex Pass to enable hardware transcoding, unlike Kodi. In any case, your server device should have adequate capacity.
Library Sharing
In the realm of sharing libraries, Plex outperforms Kodi. Library sharing is nearly Plex-exclusive, which is why it's easier to share with others than it is with Kodi. That's Plex's most significant edge over Kodi.
This is because of the Plex media server you created. You can allow other individuals access to your central media server and watch the material in the same way as you do by having the complete media database on the main server. The maximum number of people you can share with at one time is 100 people. Furthermore, you, as the server owner, have control over which folder gets shared with whom and sets data limits on outgoing streams. However, this library sharing function is only accessible in Plex Pass, which we will discuss later.
Kodi was not created for sharing purposes. It is only a media player to play your local files and stream online content with the help of add-ons. However, if you would like to enable the sharing service on Kodi, there is a complicated method to it which we will not go over here.
Plugins Availability
Kodi and Plex both have a wide range of plugins available. Plugins are like apps that you can install to add new features and functionality to your software.
Kodi has a huge range of plugins available, covering everything from live TV to games. You can find plugins for just about anything you can think of, and many are free to download and use.
Plex also has a good selection of plugins available, though not quite as many as Kodi. The plugins that are available cover a wide range of topics, including movies, TV shows, music, and more. Many of the best Plex plugins are paid-for though, so you'll need to shell out some cash if you want to use them.
Ease of Use
Plex is one of the most user-friendly streaming platforms out there. Its sleek interface takes inspiration from Netflix, and it's easy to navigate – perfect for beginners.
The sidebar displays different types of material in categories such as movies & shows, music, podcasts, and live TV. Each is divided further to make it even simpler to browse. Content is classified into various genres in the "Movies & shows" section, including drama, comedy, horror, western, and Bollywood.
Usability is a top priority for Plex, while Kodi focuses more on functionality. It might take some time to install the right add-ons, but once you are set up, the media player is easy to use [6].
Pricing
All you have to do now is download the Plex Media Server app to your device where you keep your media, connect all of your media files, set it up and log in, and you're ready to go.
Plex also offers a premium membership program known as Plex Pass, which is an optional upgrade. There are three monthly payment options starting at $4.99 and continuing up to $119.99 for the lifetime plan, all of which provide access to numerous features.
Kodi is free, open-source software that runs on your computer, television, mobile device, or streaming device. And since it's free, you'll never have to worry about any of its functionality is behind a paywall. Every feature is always available to you, and you're even free to participate in the development process and contribute some of your own ideas because it's open source [7].
What You Can Watch on Plex vs. Kodi?
Both Plex and Kodi are legal, as they are simply media players. However, the legality of using either one depends on how you use them. If you only use official add-ons, then you're probably fine. However, if you install third-party add-ons that provide access to pirated content, then you could be breaking the law.
Plex is a great way to stream your personal media collection (photos, music, videos) to all of your devices. You can also use Plex to watch free movies and TV shows from various online channels (such as Crackle and CBS). In contrast, Kodi is mostly used for streaming video from illegal sources. That's not to say that Kodi can't be used for legal purposes, but it is typically associated with piracy.
Plex vs. Kodi: Which Should You Choose?
The answer to this question depends on what you want to use it for. If you're looking for a legal way to stream your personal media collection, then Plex is a great choice. However, if you're looking for a way to watch pirated content, then Kodi is probably your best bet. Keep in mind that using either one for illegal purposes is against the law and could result in serious penalties.
Plex is a slick, feature-rich media center for your home theater PC that works with all current devices. It's a great option for those who want to access and share their entire media collection from multiple devices over the internet. It's simple enough for everyone in your family to use, and it also comes with a premium subscription plan for people who want more features. However, it lacks user configurability and restricts some of its greatest functions behind the premium subscription plan.
Although Kodi is free and open source, it requires some knowledge to personalize. It's also great for home theater setups but you can't take or access your content away from home like with Plex. Lastly, Kodi doesn't have the same initial usability that Plex does [8].
FAQ
Is Plex based on Kodi?
Plex stands for media center software, much like Kodi. However, unlike Kodi, Plex is a server-client program that may stream material from one machine to any other client device. Although part of Plex was inspired by Kodi source code, it still has something in common with Kodi because the two systems share some code.
Is Plex TV completely free?
No, Plex TV isn't free. The core program is, but in order to use it to the fullest extent, you'll need to sign up for a subscription. There are three different subscription tiers: Basic, Plus, and Premium. Each one offers different features, such as offline viewing and DVR recording.
Is Plex legal when it is free?
Yes, Plex is completely legal. It's a free and open-source media center that allows you to play your own local media files as well as stream online content from various services.
Kodi, on the other hand, is a bit more complicated. While it is also free and open-source, it isn't as straightforward when it comes to legality. That's because Kodi can be used for both legal and illegal streaming. If you only use Kodi for legitimate sources, then it is completely legal. However, if you add third-party add-ons that give you access to pirated content, then Kodi becomes illegal.
Can you run Kodi and Plex at the same time?
Kodi and Plex are both capable of streaming videos and music to your TV, but they're two distinct applications. It's possible that you'll choose to use both in order to have the best of both worlds. The official Plex Kodi addon allows you to utilize your Plex server through the internet, as usual, effectively integrating the two services [9].
Has Plex been hacked?
Yes, Plex has been hacked before. In 2015, a major security flaw was discovered that allowed hackers to gain access to user data. However, Plex has since patched the hole and made its platform much more secure. Overall, Plex is considered to be a very safe and secure media center software.
Kodi, on the other hand, has also had its fair share of hacking incidents. In 2017, a popular Kodi addon called Covenant was hacked and used to distribute malware. This just goes to show that no matter which media center you use, you need to be careful about the addons and repositories you install from.
How do I get free movies on Plex?
Open the Plex software on your device and scroll to the "Movies & TV on Plex" selection in the sidebar. Then you may scroll through and see all of the free stuff available. Choose something that you like [10].
Does Plex use Internet data?
Yes, Plex uses the internet in order to stream content from your server to your device.
Additionally, if you have a lot of local content stored on your server, then Plex won't use as much data because it will be pulling from your local network instead.
Kodi also uses the internet in order to stream content. However, Kodi is more flexible than Plex because it can also be used with physical media like DVDs and Blu-rays. If you want to watch a movie offline, you can just pop in the disc and Kodi will play it without needing an internet connection.
Is Plex the same as Netflix?
No, Plex is not the same as Netflix. Netflix is a subscription-based streaming service that offers movies and TV shows to watch online. Plex is a media center software that lets you play your own local media files as well as stream online content from various services. You can think of Plex as more of a personal media library while Netflix is more like a traditional movie rental service.
Do I need a VPN for Plex?
A Virtual Private Network (VPN) encrypts your internet traffic and routes it through a server in another location. This makes it more difficult for your ISP to track what you're doing online and also makes it more difficult for hackers to gain access to your data. Additionally, a VPN can help you bypass geo-restrictions so that you can watch content that isn't available in your country.
Kodi doesn't require a VPN, but we still recommend using one. For Kodi users, a VPN can help hide your activity from your ISP since Kodi can be used for both legal and illegal streaming. A VPN will also allow you to install repositories and addons from other countries, giving you access to a wider range of content.
Can I get caught using Kodi?
Yes, you can get caught using Kodi if you're not careful. Because Kodi can be used for both legal and illegal streaming, your ISP may be monitoring your activity to see if you're accessing pirated content. If you are caught streaming pirated content, you could face serious consequences like a fine or even jail time. However, if you're using a VPN with Kodi, then your activity will be hidden from your ISP and you'll be much less likely to get caught.
How do I put Netflix on Kodi?
On Kodi's main screen, go down the left-hand column and click on Add-ons. In the right section, Netflix is listed under Video add-ons. To utilize it, simply click on it [11].
How do I connect Plex to Kodi?
To connect Plex to Kodi, you'll need to install the Plex for Kodi addon. Once you've done that, you can launch Plex from within Kodi and sign in with your Plex account. After that, you'll be able to access all of your Plex content from within Kodi.
One of the great things about using Plex with Kodi is that you can use the same interface to access both local and remote content. That means you can browse your entire movie collection, whether it's stored on your computer or on a remote server, from within Kodi [12].
Who runs Plex?
However, it also offers a free version of Plex that is supported by ads. Kodi, on the other hand, is a non-profit organization that relies on donations from users.
How do I cancel my Plex account?
To cancel your Plex account, you need to log in to your account, click on your username in the top-right corner of the screen, and select "Account" from the drop-down menu. On the next page, scroll down to the bottom and click on the "Cancel Subscription" button. You will then be asked to confirm your cancellation [13].
Kodi does not have an official cancellation process since it is a non-profit organization. However, if you no longer want to use Kodi, you can simply uninstall it from your device.
Can I watch Disney Plus on Plex?
Yes, you can watch Disney Plus on Plex if you have a subscription. You will need to download the Disney Plus app and then sign in with your account information. Once you are signed in, you can browse the content and select what you want to watch. If you have a Plex Pass, you can also download movies and shows from Disney Plus to watch offline.
Can you get HBO on Plex?
With the newly added Discover section in Plex, you can explore all the popular and trending content from streaming sources such as Netflix, HBO Max, Hulu, and more. This way, you won't have to keep switching between apps when trying to find something new to watch [14].
Is Plex free on Roku?
Yes, Plex is free on Roku. You can add the Plex channel from the Roku Channel Store and then sign in with your account information. Once you are signed in, you can browse the content and select what you want to watch. If you have a Plex Pass, you can also download movies and shows from various streaming sources to watch offline.
How do I watch movies on Plex?
Download the Plex media server software onto your computer [15];
You can find the download for Plex from the official website;
Once you have downloaded and installed Plex, launch the application;
Click on the "+" sign to add a new library. A window will pop up asking you to choose which type of content you would like to add;
Give your library a name (e.g., "Movies") and click "Next". Choose the folder where your movies are stored and click "Add Library". Your movie collection will now appear in Plex;
Can you use Plex without WiFi?
When utilizing the Plex Media Server, it is frequently assumed that you will have an active internet connection. While most things will function even if you don't have a connection for a while, some features do require an active connection. These are adding new library content (retrieving metadata, artwork, etc.).
How do I use Plex on Firestick without the Internet?
If you're looking to use Plex on your Fire TV without an internet connection, there are a few ways to do so:
One way is by setting up a VPN on your router and connecting your Fire TV to that network. This will give you access to all of your content stored on the server, as well as any other online content that you may have access to through the VPN;
Another way is to sideload the Plex app onto your Fire TV using a method like ADBFire or Android Debug Bridge. Once the app is installed, you can connect to your Plex server and access all of your content stored there;
How do I connect to Plex locally?
If you're looking to connect to your Plex server locally, there are a few ways to do so:
One way is by opening the Plex Web App and clicking on the "Server" tab. From here, you can click on the "Show Advanced" option and enter your server's IP address. Once you've done this, click on the "Connect" button and you should be connected;
Another way is by downloading the Plex Media Player application. Once you have installed the application, open it up and click on the "Add Server" option. Enter in your server's IP address and click on the "Add Server" button. You should now be connected to your Plex server;
Can you use Plex without a computer?
Yes, you can use Plex without a computer. You'll need a server to host your media content, but you can connect to that server from any device with the Plex app. That means you can use Plex on your TV, phone, tablet, or any other supported device.
Plex also offers a paid subscription service called Plex Pass. With Plex Pass, you get access to premium features like cloud sync, mobile sync, and more. You also get early access to new features and beta versions of the software.
PLEX vs KODI for NAS
References
https://www.videoconverterfactory.com/tips/plex-vs-kodi.html
https://bestdroidplayer.com/streaming-apps/kodi-and-plex-the-battle-of-pros-cons
https://www.bollyinside.com/articles/how-to-choose-between-kodi-and-plex
https://techdaily.ca/plex-vs-kodi
https://www.videoconverterfactory.com/tips/plex-vs-kodi.html
https://bestdroidplayer.com/streaming-apps/kodi-and-plex-the-battle-of-pros-cons
https://www.reviewgeek.com/66151/plex-versus-kodi-which-is-better-for-home-streaming
https://cordcutting.com/compare/plex-vs-kodi
https://www.comparitech.com/plex/plex-kodi-addon
https://www.groovypost.com/howto/watch-free-movies-and-tv-with-plex
https://www.firesticktricks.com/netflix-kodi-addon.html
https://www.bollyinside.com/articles/how-to-connect-plex-server-to-kodi
https://useline.com/how-to-cancel/plex
https://www.hellotech.com/blog/how-to-add-streaming-service-to-plex
https://www.plex.tv/your-media/movies-tv/